Alternative Tentacles began its illustrious life in 1979. Today in 2009, we are commemorating three decades of persistence with shows in early November in San Francisco and by continuing to release new music. We also thought we'd shine some light on the history of Alternative Tentacles by asking artists on the label, past and present, about what it all means to them.
First off and appropriately timed with the upcoming release of Star Fucking Hipsters "Never Rest In Peace" is Stza from
Star Fucking Hipsters
and
Leftover Crack
.
What is your first memory of Alternative Tentacles? Where were you in 1979?
I was playing with a tennis ball when I was 3 years old in 1979, I don't recall the Dead Kennedys playing, more likely it was the Beatles.
I think I was reciting my first words "Pol", "Pot", "Pol", "Pot", etc.
What is your favorite Alternative Tentacles band? Favorite release?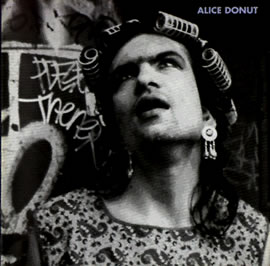 Being from NYC, I was really into
Alice Donut
, with songs like "Egg" and I even stole the first verse of "500 Channels" by Choking Victim from their song "Tiny Ugly World" from the record "Mule". Alice Donut had a great live show too as did NYC's
False Prophets
, my favorite song of theirs being "Destructive Engagement" from the record "Implosion" (I believe). That song's really hard to find because the record's been out of print forever. Also one my main musical influences of all time was and is Neurosis, who released several albums on A.T., my favorite still being "Souls at Zero" with my favorite track being "Takahnase."

How did Jello ask you to put out a record on Alternative Tentacles?
After spending over two years writing, recording, and mixing the initially self-financed
"Fuck World Trade" by Leftover Crack
with great folks like Steve Albini and the musicianship of folks like the World/Inferno Friendship Society we had a hell of a time trying to get record labels to listen to it and with the title being what it was. I remember receiving an e-mail while I was away in Central America and the gist of it was, "Call Jello, he likes the record!"
So I called him on a very poorly connected telephone from the middle of Guatemala and we discussed what would later turn out to be the A.T. release of the record in 2004. It was fairly surreal for me at the time to talk to him as we threw ideas back and forth at what seemed to be lightning speed, but with that annoying phone-delay echo to boot. I had always wanted to be on A.T. ever since I first became a punk and started playing in bands, after all they had the most politically influential artist up to that point in my life and he was the captain of the A.T. boat.
I was always vaguely disappointed that A.T. didn't want to put out
"No Gods/ No Managers" by Choking Victim
, although I'm certainly glad that they eventually came around to L.O.C. & now I'm proud to have our new Star Fucking Hipsters album on the label.
How would your career be different if you hadn't had a record on the label?
I would definitely be less politically satisfied, although I think Fat Wreck Chords also has their political hearts in the right place as well, it's just not quite the same as being on a label with great writers and political commentators like Arundhati Roy, Michael &
Christian Parenti
,
Noam Chomsky
, and
Mumia Abu Jamal
. A.K. Press is amazing, a lot of my research for the lyrics on "Fuck World Trade" was reading "Lockdown America" by Christian Parenti &
Arundhati Roy
's essays about the World Bank and I.M.F. devastating India with ill-conceived debt. Incurring dams that devastated and displaced huge populations of indigenous towns and also the writings of Mumia and the police injustice perpetrated upon him.

Where do you see yourself in 2039?
Old and fat suckling on the golden nipples of my A.T. royalty checks!
And of course captain some sort of starship, like the Jeffersons "Starship", ya' know "movin' on up to that big something starship in the sky-hi-hyyy"
Thank you for having me on the label and giving me a chance to fulfill one of my punk-rock dreams...