Alternative Tentacles will be closed on Wednesday, November 2nd to show solidarity with the General Strike recently proposed by the Occupy Oakland movement!
[
DOA's "General Strike" set to 2011 Wisconsin protest footage!
]
The occupiers' proposal follows:
"We as fellow occupiers of Oscar Grant Plaza propose that on Wednesday November 2, 2011, we liberate Oakland and shut down the 1%.


"We propose a city wide general strike and we propose we invite all students to walk out of school. Instead of workers going to work and students going to school, the people will converge on downtown Oakland to shut down the city.

"All banks and corporations should close down for the day or we will march on them.

"While we are calling for a general strike, we are also calling for much more. People who organize out of their neighborhoods, schools, community organizations, affinity groups, workplaces and families are encouraged to self organize in a way that allows them to participate in shutting down the city in whatever manner they are comfortable with and capable of.

"The whole world is watching Oakland. Let's show them what is possible."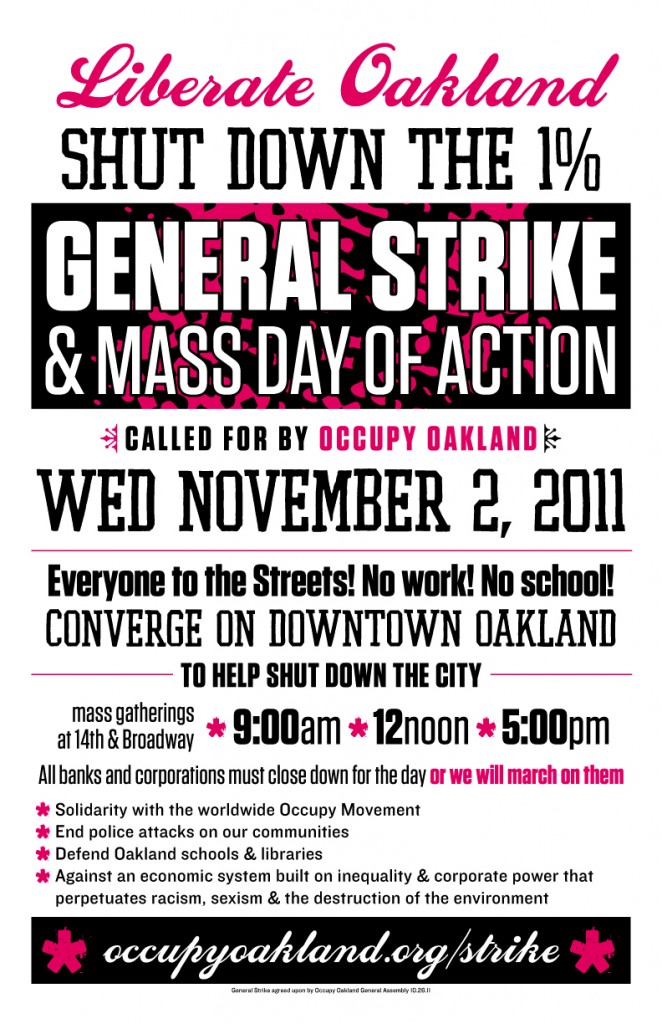 -----
One of the most well known U.$. general strikes occurred over a five day period in Seattle, 1919, with 60,000 union members and 40,000 non-union sympathizers walking out and taking to the streets. The city all but stopped functioning, with exceptions made for essential services (firefighters, hospital staff, and the like). Crime plummeted, neighborhood kitchens were set up to feed the populace, and a staunch anti-authoritarian spirit permeated the city.


That peaceful strike ended with National Guard interference and the subsequent anarchist / socialist / IWW witch hunt that followed. Let's hope this one ends on a better note!

(info taken from chapter 15 of Howard Zinn's classic "A People's History Of The U.S.", available in its entirety online): http://www.historyisaweapon.com/zinnapeopleshistory.html


For up-to-date Oakland Occupation information:
http://www.occupyoakland.org


We Are The 99%!